For more than 20 years, families and Michigan Medicine care team members, in partnership with Nichols Arboretum, have met on a Saturday each October to acknowledge the significance of perinatal loss and remember loved pregnancies and precious babies who are not physically with us.  
From the beginning of time, families have experienced perinatal loss, but it wasn't until the 1980's that our society began recognizing the need for supportive care in grieving pregnancy and newborn death. In 1988, President Ronald Reagan declared October to be "National Pregnancy & Infant Loss Awareness Month," calling for communities to come together for support and recognition of these significant losses.  Read the Presidential Proclamation here.   
A Walk to Remember and Tree Dedication
The 2021 event took place on Saturday, October 2, 2021.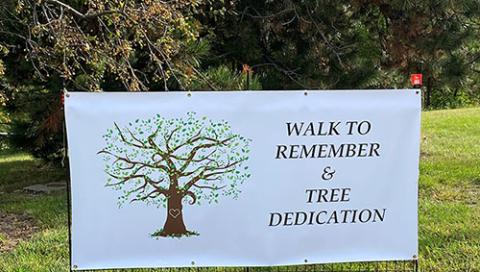 2021 Tree Information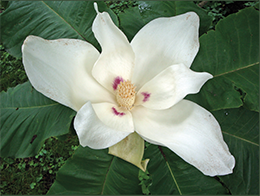 The Walk to Remember 2021 tree is a magnolia macrophylla, commonly called the bigleaf magnolia. It is known for its oblong to obovate leaves that can measure up to three feet long and one foot wide. The tree bears large fragrant white flowers that measure 8 – 12 inches as well as red fruits.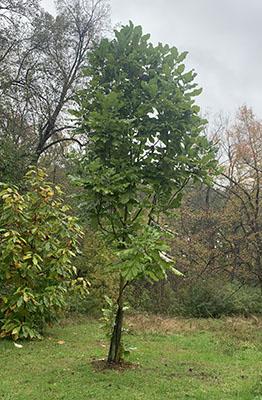 The bigleaf magnolia gains around one foot per year and forms a pyramid shape. It can grow 30 – 40 feet tall and wide.
The 2021 tree can be found alongside most of the previous years' tribute trees in or near the Tuliptree Valley in the Arb. View the Magnolia Glade Tribute Trees map here. 
The 2002 – 2006 tribute trees are located in the Main Valley of the Arb. View the Main Valley Tribute Trees map here. 
Leaves

Part of the Walk to Remember tradition includes an opportunity for participants to place a brief message on a paper leaf which is carried to the tree planting site and left in a basket.  Leaves from every year are saved and archived in a scrapbook. 
For the 2020 Walk to Remember, you may create a short message that will be written on a paper leaf for you.  Create your leaf message here. 
Contact Information
If you have additional questions, please email walktoremember@med.umich.edu.