Why should parents learn about car seat safety?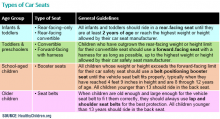 Motor vehicle crashes are the leading cause of preventable death for all young people. Appropriate car safety is one of the most important things parents can do to keep their child safe. At each stage, kids are at risk in different ways and require different safety considerations.
Infants and children less than 2 years of age
Infants should always be in the back seat of the car, in a rear-facing position. Never use a rear-facing car seat in the front seat of a vehicle. An infant or child should NEVER ride unrestrained or in an adult's arms.
There are two child restraint options for infants: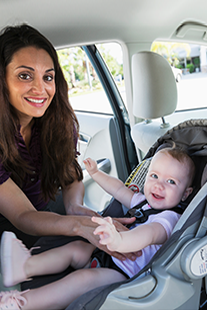 Infant carriers
A carrier is typically part of a portable car seat system, which often includes a car seat base and stroller base. The carrier snaps into both base systems. Infant carriers are typically used until infants are about 12 months of age. Use should be based on the length and weight of the individual child and car seat model. Infant car seats should be used only for travel—not for sleeping, feeding, or any other use outside the vehicle.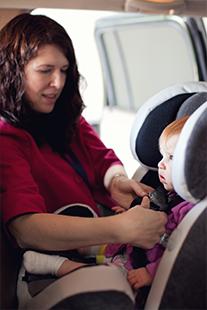 Rear-facing convertible car seats
Convertible car seats can be used for most infants 5 lbs or greater from birth until approximately 40 lbs. They can be used rear facing and, later, "converted" to forward-facing when the child outgrows the weight or length limits and used for several more years. They have a 5-point harness that attaches at the shoulders, at the hips, and between the legs. They should also only be used for travel—not sleeping, feeding, or any other use outside the vehicle.
There are a few things to keep in mind with regards to safe use of a rear-facing car seat:
The shoulder straps should be in slots that are at or below your baby's shoulders.
Ensure that the harness is snug (you cannot pinch any slack between your fingers when testing the harness straps over the baby's shoulders).
Ensure that the retainer clip is placed at the center of the chest, level to your child's armpits.
Make sure the car seat is installed tightly in the vehicle with either LATCH or a locked seatbelt. If you can move the seat more than an inch side to side or front to back, it's not tight enough.
Never place a rear-facing seat in the front seat of a vehicle that has front passenger air bags. If the air bag inflates, it will hit the back of the car seat where your baby's head is. This could cause serious injury or death.
Make sure the seat is at the correct angle so your infant's head does not flop forward. Check the built-in angle indicators or adjusters.
Car seat installation
Installing car seats can be tricky. It's important to check your car's owner's manual, car seat owner's manual and have it checked by a local expert if possible. Michigan Medicine's "Mott Buckle Up! Program provides car seat installation support to both the community and patients at C.S. Mott Children's Hospital. For more information, call  734-763-2251.
Rear-facing vs. forward-facing car seat placement
The rear-facing position is safer for infants and young children because their heads compose a much larger portion of their body size. Adult's heads are approximately 6% of their body mass, whereas infant's heads are approximately 25% of their body mass. Infants and young children also have less developed bones and ligaments, which can stretch up to 2 inches compared to ¼ inch in an adult. This makes them at higher risk for spinal cord injuries, paralysis and death. Forces from the impact of a car accident affect children in rear-facing car seats very differently than front-facing car seats. Studies have shown injury and death is decreased by 75% when children are appropriately restrained in a rear-facing carseat.
Children over age 2
Children should not be turned to forward facing until they surpass the height and/or weight requirements listed on their car seat. This is supported by the newest recommendations from the American Academy of Pediatrics (AAP).
Children older than 2 should remain in a 5-point harness convertible car seat until they reach the maximum height and weight for their car seat and can safely sit in a booster seat. This is usually around 5 years of age and 50lbs. Your child's ears should be below the top of the car seat.
Booster seats
Once your child no longer fits in their convertible car seat, they may graduate to booster seat.
There are two types of booster seats, "high backed boosters" and "bench style." If you have bench-style seats without a headrest, use a high-backed booster seat to prevent neck injury in a crash.
Both types of boosters are designed to raise your child so seat belts fit properly, and both will reduce your child's risk of injury in a crash. High-back boosters should be used in vehicles without head rests or with low seat backs. Many seats that look like high-back boosters are actually combination seats. They come with harnesses that can be used for smaller children and, later, removed for older children. Backless boosters are usually less expensive and are easier to move from one vehicle to another. Backless boosters can be used safely in vehicles with head rests and high seat backs.
Children should remain in a booster seat until they are 4'9" tall and able to pass this important 5-STEP TEST:
Back rests against the vehicle seat
Knees bend at the edge of the seat
Lap belt is positioned on the tops of thighs
Shoulder belt sits between the shoulder and neck
Child can stay this way the entire trip
Most children should safely remain in a booster seat until they are 10-12 years old. Booster seats are the law in Michigan, until kids are 8 years old or 4'9" tall. The height requirement is much more important than age, as this is what keeps your child safest.  
Seatbelts
Once your child has passed the -5-step test, he may graduate from a booster seat and use a seat belt. Children less than 12 years of age should be in the back seat due to risk from air bag deployment. When using the car's safety belt with or without a belt-positioning booster seat, keep in mind these guidelines:
Never tuck shoulder belts under a kid's arm or behind their back.
Make sure the lap belt fits tightly and sits low on the hips, not across the stomach.
What is LATCH?
LATCH stands for Lower Anchors and Tethers for Children. It is a car safety seat attachment system that has been developed to make car safety seats easier to use. It was designed to make correct installation easier. Starting in model year 2002, cars and car safety seats come with lower anchors and attachments.
Keep in mind, though, that unless both the vehicle and the car safety seat have LATCH in the seating position you'd like to use, seat belts will still be needed to secure the car safety seat. Forward-facing seats recommend use of both the seat belt or lower anchors, and the top tether.
Other important car seat safety considerations
If your car seat was in a crash you should not use it, even if it looks okay. It may have been weakened.
Do not buy a used car seat. It may have been in a crash or recalled.
Car seats expire. Check the date of manufacture on the seat, or contact the manufacturer for more information.
If you cannot afford a car seat Mott Buckle Up may be able to help. Call 734-763-2251 for more information.
Additional resources:
Written/ reviewed by Jessica Fealy, MD
Updated November 2018