Speak to a Mott Patient Advisor
877-475-6688
C.S. Mott Children's Hospital
In December 2011, the new 12-story C.S. Mott Children's Hospital opened, enabling us to better fulfill our commitment to providing newborns, children and pregnant women with the best health care possible.
In addition to providing safe, effective and progressive care for women and children, the new C.S. Mott Children's Hospital has been designed to provide a new and larger home for a pediatric specialty services – many of which are not offered on this scale anywhere else in Michigan such as the pediatric liver transplant program, the Level I Pediatric Trauma Program, the Pediatric and Adolescent Home Ventilator Program, Fetal Diagnostic and Treatment Center, Craniofacial Anomalies Program, and our internationally renowned Michigan Congenital Heart Center.
Our new hospital will help us continue to evolve, transform and drive the future of children's medicine and pregnancy and childbirth care. All to deliver the best in patient and family-centered care for you and your family. Better facilities for our patients includes:
1.1 million square feet including a 12-story inpatient tower and 9-story clinic tower
348 inpatient beds
300-square-foot private inpatient rooms with a sleepspace for a parent or birth partner
State-of-the-art operating room suite including intra-operative
MRI capabilities
Bone Marrow Transplant suite with on-site infusion pharmacy
three all-private room intensive care units dedicated to newborn, children and adolescent, and cardiothoracic care
Dedicated Pediatric ED staffed by pediatric specialists
24/7
Rooftop helipad
3 MRI's including one "open" MRI
12 room Ronald McDonald House within the hospital
Location Services
Patient Resources
Ronald McDonald House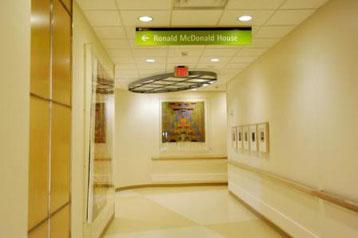 The Mott Ronald McDonald House is located on the 10th floor of C.S. Mott Children's Hospital. Its capacity is 12 families, and each family has a private sleeping room, shower, and access to snacks and laundry facilities.    
Additional Information
There are many parking options for patients and visitors coming to C.S. Mott Children's Hospital.  You can see where the structures below are located on our Medical Center Maps page.
Parking Structure -  P2
Located next to the front entrance of University Hospital on Medical Center Drive
Open 24 hours a day, 7 days a week
Visitors may enter the hospital from the 2nd floor of the garage by entering Taubman Center on the 2nd floor and taking the walkway into C.S. Mott Children's Hospital and Von Voigtlander Women's Hospital.
Parking Structure -  P4
Located off East Hospital Drive
Open 24 hours a day, 7 days a week
Visitors may enter the hospital by crossing the road using the pedestrian crosswalk from Level 2 of the garage, or visitors can use an enclosed connector on Level 5 of the garage to enter the hospital on Level 3.
For information about parking for other U-M Health System Main Medical Campus facilities visit our website.
Valet Services
Valet parking is available for a fee at the main entrance to C.S. Mott Children's Hospital and Von Voigtlander Women's Hospital via East Hospital Drive.  Hours of availability are 5:30 a.m.  – 9:00 p.m., Monday through Friday and 8:00 a.m. – 6:00 p.m. on Saturdays, Sundays and holidays. Valet parking is available 24/7 for patients arriving in the Mott Children's Hospital pediatric emergency department via the entrance on Medical Center Drive. For more information, including current fees, call Valet Parking at 734-936-6641. Valet parking is also available for other facilities on the U-M Health System Campus.  Learn more about other valet options here.