ANN ARBOR, Mich. — Michigan Medicine experts will answer questions about the Pfizer and Moderna COVID-19 vaccines for kids under age five during a live Q & A session on Thursday, June 23.
The live discussion will be held at 1 p.m. EST on both the @MottChildren and @MichiganMedicine Facebook pages as well as the @MottChildren and @UMichMedicine Twitter accounts and the Michigan Medicine YouTube channel.
The U.S. Food and Drug Administration has authorized both the Moderna and Pfizer COVID-19 vaccines for children ages six months up to five years, paving the way for millions of babies, toddlers and preschoolers to get their first COVID-19 vaccination this summer. Moderna's vaccine for kids ages six to 17 was also authorized.
Michigan Medicine experts will answer parents' top questions about the vaccines, as well as overall questions about the current status of the COVID pandemic and what people should know. Panelists include Debra Langlois, M.D., a pediatrician at University of Michigan Health C.S. Mott Children's Hospital; Sandro Cinti, M.D., infectious diseases specialist; and Pam Rockwell, D.O., a family medicine physician.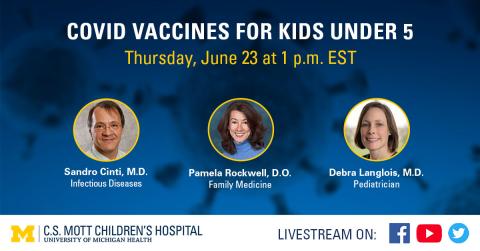 They will address such topics as side effects, boosters, variants' impact on vaccines and what parents should consider when weighing the decision about whether to vaccinate their children.
"The younger age group has been especially vulnerable during the pandemic," said Langlois, who is also the parent of a child under age five. "They've been without vaccine protection while many communities have dropped safety measures like mask wearing."
"We understand that parents considering whether to vaccinate younger children may have many questions about the newly available vaccines, and we're hoping we can help them make an informed decision."
Attendees may ask questions live at the time of the event. The video of the chat will also be available afterwards. 
More information about the event here.
Read more about COVID-19 vaccination for kids under five on Michigan Health