ANN ARBOR, Mich. —   Children who visit the hospital can now see the smiling faces behind their care teams' masks.
Masks have become a critical safety measure to protect employees, patients and families from potential COVID-19 exposure. But they may also make it difficult for some patients to recognize their care teams.
Now, nurses, doctors and staff at Michigan Medicine C.S. Mott Children's Hospital and Von Voigtlander Women's Hospital are wearing facial photo buttons so patients can see their friendly faces – sans masks.
The "button project" aims to reduce patient anxiety and build trust with care teams, particularly for children who may be more apprehensive during care and treatment.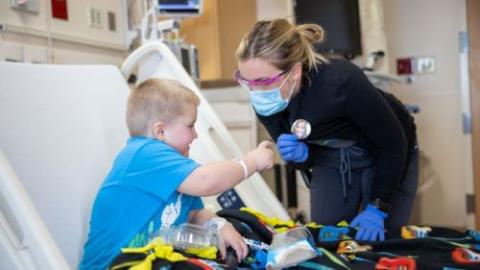 "Being at the hospital can be a scary and nerve-racking experience for children," says Luanne Thomas Ewald, FACHE, M.H.A., chief operating officer at Mott and Von Voigtlander.
"We recognize that COVID precautions may make it difficult for some patients to recognize the people who are taking care of them. This project fits with our philosophy to always imagine the hospital experience through children's eyes so we can improve their environment and comfort."
The new initiative, which is in partnership with Michigan Medicine's Office of Patient Experience, was inspired by a Michigan Medicine employee who had a long hospitalization due to COVID-19 and struggled to identify providers. The project has already been well received among patients and families, Ewald says.
"Care teams build relationships with patients and families through compassion, empathy and support. Current restrictions are critical to keeping our hospital community safe but also limit some human interactions that show you care," Ewald says. "We want patients to see that behind those masks are smiling faces of compassionate people who care about you and are here to help."