ANN ARBOR, Mich. —  The pandemic won't cancel Halloween at Michigan Medicine C.S. Mott Children's Hospital.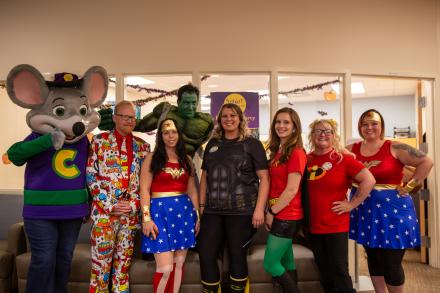 Characters visited kids during a Halloween party hosted by Spirit of Children at C.S. Mott Children's Hospital in 2019.
Spirit of Children will continue its tradition of bringing the magic of the holiday to young patients at the hospital.
Mott child life specialists will "reverse trick-or-treat" with Little Victors by delivering one-of-a-kind care packages donated by the organization that contain assorted costumes, activity books, crayons and treat bags.
"Every year we look for ways to bring Halloween festivities to children at Mott who are missing traditional celebrations because they're at the hospital," says Lindsay Heering, director of Child and Family Life.
"This year we had to get more creative because of COVID-19 and find activities that follow social distancing and other safety guidelines. We are grateful to the Spirit of Children for helping us bring Halloween fun to our hospital and for their continuous support of our Child Life programs that support children and their families all year."
Spirit of Children, a nonprofit arm of Spirit of Halloween, aims to make hospitals more comfortable for kids and their families, with 100 % of its proceeds donated directly to their local pediatric hospitals.
Since 2010, the organization has donated a total of $494,950 to support the Mott Child and Family Life department. Funds have supported several initiatives benefiting patients, including the art therapy program and the child life fellowship program that allows Mott to pilot and expand child life services. Spirit of Children has also supported toys, games, activities, distraction items, video games, school and activity room supplies for pediatric patients at Mott.
In previous years, Spirit of Children has also hosted Halloween parties at Mott, donating more than 1,000 costumes to the hospital's patients and their siblings over the last five years.
In addition to Spirit of Children packages, Mott will also offer families art therapy kits to help them get in the spirit by decorating their rooms and spaces. Art therapists will also be dropping off the popular Halloween wood shapes made by the Bennett's Beavers as well as the supplies needed to paint and decorate.
Music therapy and child life have also collaborated with Dance Marathon at the University of Michigan to create a Monster Mash video and will host a virtual Halloween party through its GetWell Network.