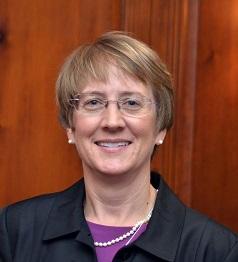 ANN ARBOR, Mich. — Donna M. Martin, M.D., Ph.D. has been appointed chair of Michigan Medicine's Department of Pediatrics and the Ravitz Foundation Endowed Professor of Pediatrics and Communicable Diseases by the University of Michigan Board of Regents.
Martin, who served as interim department chair since July 2018 and as director of the Division of Genetics, Metabolism, and Genomic Medicine from 2016-2018, began serving as chair July 1.
Martin is the Donita B. Sullivan, M.D., Research Professor of Pediatrics and Communicable Diseases, and a professor of pediatrics and human genetics in the U-M Medical School and at C.S. Mott Children's Hospital. As chair, she oversees 17 divisions with more than 200 faculty members who are committed to providing excellence in pediatric care, research, and education.
Martin is also a Taubman Scholar, secretary for the American Society of Human Genetics, and chair of the scientific advisory board for the CHARGE Syndrome Foundation. She also serves as councilor for the American Society of Clinical Investigation and deputy editor for JCI Insight.
She was inducted into the Medical School's League of Research Excellence in 2014. From 2015-2017, she was a Rudi Ansbacher Women in Academic Leadership Scholar, and this past year participated in the Executive Leadership in Academic Medicine program.
Her NIH-funded research focuses on the genetic basis of neural development and disorders of human development, and her laboratory studies genes that influence neuronal stem cell proliferation, differentiation, and migration.
Martin completed her undergraduate degree in mathematics and foreign languages at Michigan Technological University and obtained her Ph.D. in neuroscience from the University of Michigan. She also completed medical school, pediatric internship and residency, genetics residency, and postdoctoral research fellowship training at the U-M.