ANN ARBOR, Mich. —   An incurable brain tumor took Chad Carr's life when he was just five years old, but now his name will be synonymous with research to fight the lethal pediatric brain cancer.
Multiple donors have committed $30 million to establish the Chad Carr Pediatric Brain Tumor Center at the University of Michigan, an initiative to advance research and treatment for children with brain cancer.
Chad, a grandson of former U-M football coach Lloyd Carr, died in 2015, 14 months after being diagnosed with diffuse intrinsic pontine glioma (DIPG), among the most aggressive and lethal types of brain tumors.
"We are grateful for the generous gifts allowing us to honor Chad through transformational research that will help other children defeat this terrible disease. This is a monumental milestone in our mission to conquer pediatric brain cancer," says Valerie Opipari, M.D., a pediatric oncologist and chair of the Department of Pediatrics and Communicable Diseases at U-M's C.S. Mott Children's Hospital. 
"U-M is positioned to lead the search for cures and committed to pushing the limits of what we know about pediatric brain tumors in order to advance science and revolutionize treatment."
The joint announcement by Michigan Medicine and The ChadTough Foundation is expected to be made at the foundation's annual Champions for Change Gala on May 19.
"We want to see a day when no family will ever have to suffer this kind of heartbreak," says Chad's mom Tammi Carr.
"We believe that the work happening in Chad's name at the U-M Chad Carr Pediatric Brain Tumor Center will change the future for other children. This is Chad's legacy."
Thousands of supporters from across the country came together to raise the $30 million needed to establish and name the center in Chad Carr's memory. U-M Regent Ron Weiser and Eileen Weiser made lead gifts, along with generous donations from Wayne and Shelly Jones and the Jones Family Foundation, the Glick family and Alro Steel, The ChadTough Foundation, William and Sharon Stein, Frank and Barbara Westover, and David and Joan Evans. Together they have ensured that Chad's legacy will live on in the transformational research and care at the newly established center.
Brain tumors are the leading cause of death from childhood cancer, and the most dreaded type is DIPG — which stems from the region of the brain that controls vital functions such as breathing and heart rate. Research proves that chemotherapy, radiotherapy and surgery, which together have been the foundation for cancer therapy advances during the last two decades, are not effective against DIPG.
While the field of pediatric cancer research has seen a number of breakthroughs in recent years, DIPG has seen little progress. More than 90 percent of children diagnosed with DIPG die within 18 months of diagnosis. 
U-M's Chad Carr Pediatric Brain Tumor Center unites experts from multiple specialties, including pediatrics, radiology and neurosurgery, radiation oncology, genetics and pathology as well as engineering and public health to accelerate research on DIPG and other pediatric brain tumors.
"The Chad Carr Pediatric Brain Tumor Center will leverage the breadth and depth of expertise across the university to fuel innovative research and deliver new therapies for children with brain cancer," says Marschall Runge, M.D., Ph.D., executive vice president for medical affairs at the University of Michigan.
"This incredible collaboration brings together a renowned team of doctors and scientists at Michigan who will pool knowledge and break traditional boundaries to drive advances in research and treatment for pediatric brain cancer."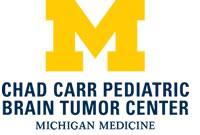 Discoveries have already been made by the U-M research team devoted to pediatric brain cancer research, including a study using tissue from Chad's tumor that uncovered the key and early role of a less-understood genetic mutation in the cancer's fatal course.
The funds raised are part of a larger $51.5 million campaign to support fundamental scientific research programs on pediatric brain tumors, including DIPG, and develop research strengths and infrastructure to support clinical trials. Philanthropic partnerships are essential for U-M to significantly expand clinical and research capacity in these areas. Only 4 percent of federal funding for cancer research is allocated to pediatric cancers. Brain cancers in children — considered rare by medical statistics — receive just a sliver of that allocation.
"This is a major step toward our goal to improve survival for children with brain cancer, but we have much more work to do," Opipari says. "We need to continue to build on the incredible momentum that Chad has inspired to find cures."
Learn more about U-M's Chad Carr Pediatric Brain Tumor Center at michmed.org/pediatric-brain-tumors.
To support pediatric brain tumor research at U-M, visit: medicine.umich.edu/dept/pediatric-brain-tumor/giving.