Animal-assisted therapy is known to have many positive effects on patients of all ages.  Research shows that animal therapy can lower stress and anxiety levels, improve blood pressure, increase patient mobility, and provide an alternative focus from pain.
For more than 90 years, animal therapy has been in place in some form in our pediatric care programs at University of Michigan.  While much has changed since the days of ducklings paddling in tubs alongside patient beds, our commitment to the healing power of the human-animal bond remains strong.
Paws4Patients
As part of our animal therapy program, we are proud to have four full-time service dogs on our team as part of the Lipschutz-Danzansky Family Paws4Patients Facility Dog Program, which launched in 2016. 
Our hospital dogs, Denver, Anna, Bindi and Fawn were trained by Canine Assistants to work in a hospital setting. They were specifically matched to Michigan Medicine based on our needs and the types of patients we care for.
While Denver, Bindi, and Fawn work "full time" in C.S. Mott Children's Hospital, Anna shares her time between Mott and some of the adult inpatient units at Michigan Medicine. No matter where they are, all dogs are here to comfort patients and families through bedside visits, as well as motivate and assist during certain types of therapy and rehabilitation.
Meet Anna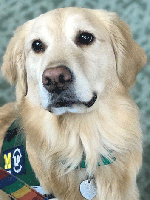 Anna is part of the Spiritual Care team at Michigan Medicine. She loves supporting patients, families, and staff of all ages throughout the hospital. She spends a lot of her time in the Adult Palliative Care Program, as well as the critical care and cardiovascular intensive care units. On her breaks, she loves napping with her stuffed animals and visiting the chipmunks and squirrels around the hospital grounds. She is known for being petite, strong-willed, and giving the best hugs. Anna is handled by Rev. Dr. Christina Wright, Lori-Jene Brazier, Rabbi Sara Adler, Fr. Lewis Eberhart and Kate Balzer.
Meet Bindi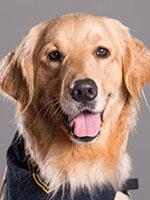 Bindi is part of the Wayne and Shelly Jones Family Center team at Mott. The Family Center is a place for patients and families to relax, find information, attend classes and meet Bindi to receive the benefits of animal therapy. Bindi is sweet, patient, and loves to be with people, especially children. Her favorite colors are maize and blue and her favorite food is peanut butter. She is handled by Ann Hendrick, Anne Chen, Lindsay Krzyzaniak and Kara Slater.
 Meet Denver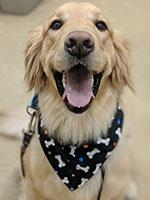 Denver is part of the team in Mott's Pediatric Intensive Care Unit (PICU). Denver is patient, gentle and loves to hang out with patients and their families in the PICU. When he isn't at work, Denver loves going for walks on trails in the woods. His favorite movie is "The Secret Life of Pets" and his favorite actor is Scooby Doo. Denver is handled by Joel Maier, Michele Derheim, Bethany Petersen, Lena Arend and Shae Maier.
Meet Fawn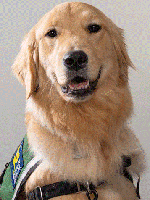 Fawn is part of the Stepping Stones Pediatric Palliative Care Program team at Mott. Fawn is super smart, sweet, and silly and loves coming to work every day to help care for patients with serious illness and their families. When she isn't at work, Fawn loves watching ducks and playing fetch with her friends. Her favorite show is Paw Patrol. Fawn is handled by Rachel Brownson, Elizabeth Goudie, Dr. Tricia Keefer, Prianka Shakil, Becca Wright, Kate Balzer and Erinn Louttit.
For more information about our Paws4Patients program, contact:
Lindsay K. Heering, MS, CCLS
Administrative Director
Child & Family Life Department
lhadden@med.umich.edu 
And remember to follow our dogs on Instagram!
Therapaws
In addition to our hospital dog program, we also host visits from Therapaws of Michigan. Therapaws teams have been visiting University of Michigan Health System patients since 1987.  There are currently more than 25 teams that visit various U-M Health System locations.  Therapaws volunteers (owner and dog) are matched with units and visit patients during regularly scheduled visits. Unit Hosts select and prepare patients to receive visits from these canine companions. Therapaws of Michigan uses a strict screening protocol to ensure the selection of well-mannered dogs of sound temperament and good health.
Under the supervision of trained volunteers, these special dogs visit patients in a variety of settings: their inpatient rooms; during physical and occupational therapy sessions; in waiting rooms, and in other settings deemed appropriate by hospital staff.
Through the Therapaws Pet By Rx program, special requests for dog visits can be accommodated if a team is available outside regularly scheduled visits.  To schedule a visit between a Mott patient and a therapy dog, speak to the patient's unit host, nurse or doctor who will work with our Volunteer Services department to arrange the visit.
Safety and Infection Control
Our facility dog and volunteer-dog handlers always get permission before a dog enters a patient's room.
To further protect the health of our patients, dogs are unable to visit children who are under isolation precautions.  Dogs are bathed on regular schedules and handlers follow strict hygiene and maintenance standards.  Everyone who pets the dogs should cleanse their hands before and after to limit the spread of germs.
If you are uncomfortable around dogs or allergic to them, please let the dog's handler or one of your caregivers know.
Supporting animal-assisted therapy
Our animal therapy programs are made possible only through the generosity of donors.  Click here to support our animal therapy programs.