The Pediatric Renovascular Hypertension (pRVH) Program team at Mott is committed to clinical transformational research and patient centered outcomes research (PCOR) to improve the diagnosis, care and treatment for children with pediatric renovascular hypertension.
Program co-Director, Dawn Coleman, M.D., is the project lead for the pRVH PCOR Collaborative  which is funded through the Patient Centered Outcomes Research Institute (PCORI). The pRVH PCOR Collaborative connects patients and their families with the information, resources and support they need to understand the disease and to pursue the best possible treatments and outcomes.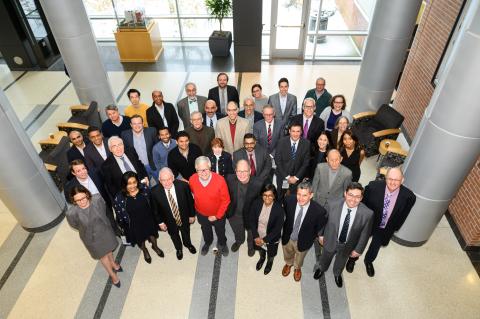 In 2019, U-M hosted the Inaugural Symposium on Pediatric Renovascular Hypertension which brought together a multidisciplinary group of clinicians and researchers from across the globe, highlighting best practices in patient care and recent discoveries in pRVH. Following the Symposium, the pRVH Patient Centered Outcomes (PCOR) Collaborative was established to expand upon these discussions and to engage patients and their families affected by pRVH as partners.
The Ganesh Lab works on the genetic and mechanistic basis of arterial diseases and hypertension. The arterial changes leading to pRVH are characterized by typically aggressive and adverse vascular remodeling. To study this process, the lab is investigating the genetic and molecular mechanisms of pRVH using state-of-the-art genetic methods and vascular biology approaches.
The Figueroa lab studies the relationship between hemodynamic alterations, vascular remodeling, and hypertension in adult and pediatric populations. The link between disturbed hemodynamics in mid-aortic syndrome and renovascular hypertension is examined through advanced medical imaging, powerful open-source software tools for subject-specific blood flow simulation, machine learning, as well as animal models.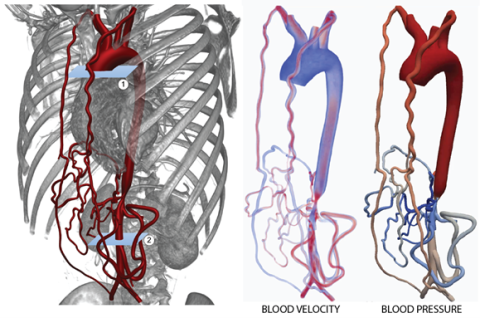 Subject-specific computational analysis of blood flow and pressure in a pediatric patient with mid-aortic syndrome.