When medical management fails to adequately control high blood pressure (hypertension), interventions are required to improve blood flow to the kidneys. Surgical repair is a frequent option for many children with advanced renovascular hypertension. Often, surgical repair opens a new world of opportunity for children with renal (kidney) artery disease, reducing limitations on physical activity, lowering medication burden (dosing), and allowing them to live a normal, active lifestyle alongside their peers.
Surgical interventions may include:
renal artery revascularization by reimplantation or bypass
aortic reconstructions to fix narrowings
aneurysms (swelling of the blood vessel) of the thoracic and/or abdominal aorta (the main artery that carries blood away from your heart to the rest of your body) or other aortic branch vessels. These may also require surgical repair.
Whenever possible, reimplantation onto the aorta of the normal renal (kidney) artery, beyond its stenosis (figure 1), remains preferred to aortorenal bypass (figure 3).
Figure 1: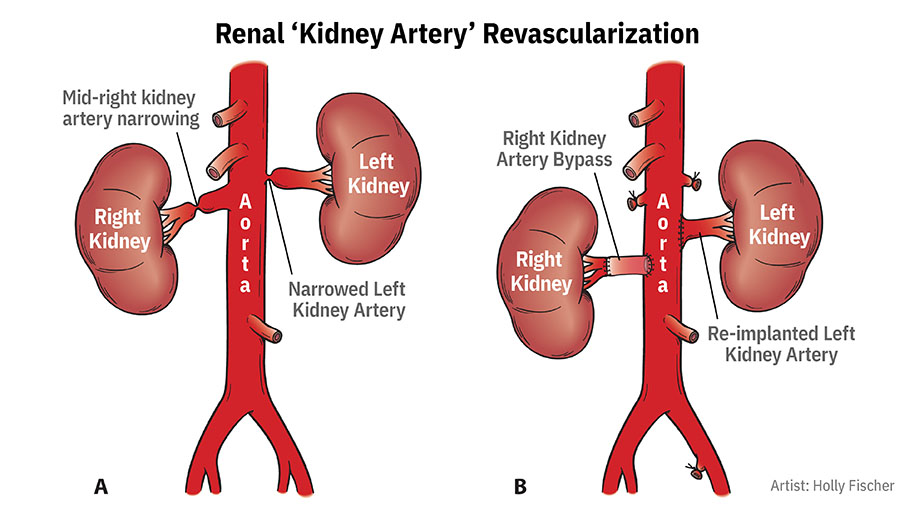 Our surgical approach to midaortic syndrome considers the length and severity of the narrowing alongside patient age/size and potential for further growth. When feasible, patch aortoplasty (reconstruction of a damaged aorta, figure 2) is the preferred technique for aortic restoration.
Figure 2:
In children with very narrow abdominal aortic coarctations (midaortic syndrome), aorto-aortic bypass is favored (figure 3).
Figure 3:
Open repair of both renal (kidney) artery stenosis and midaortic syndrome provides sustainable blood pressure benefits in 90% of children treated at our high-volume referral program.  Nevertheless, interventions in children less than three years old and the presence of coinciding aortic disease increase the likelihood of a repeat (future) surgery and those undergoing secondary procedures to salvage a prior treatment failure are less likely to be cured of high blood pressure.
Established criteria for the diagnosis and management of pediatric renovascular hypertension must consider specific patient's physical characteristics to define the most appropriate interventions and best practices, especially when balancing the risks of open operative and endovascular interventions. Further multicenter investigation of this rare and debilitating condition is urgently required to improve the outcomes and quality of life for affected children. We are committed to advancing the care of these special children. 
Contact Us
For domestic and international referrals, call 734-936-5786 or email pediatricrvh@med.umich.edu.