Heart failure is a condition that occurs when the heart is not able to pump blood as well as it should.
Heart failure in children is often caused by a congenital heart defect the child is born with. In other cases, children can also develop heart failure due to genetic defects, heart muscle abnormalities (cardiomyopathy), infection, arrhythmia, hypertension, valve disease or other medical conditions.
C.S. Mott Children's Hospital is one of the nation's top children's heart programs, and the Michigan Medicine Transplant Center is the largest and most experienced transplant center in Michigan. Our dedicated, multidisciplinary team of heart failure and heart transplant specialists provide coordinated and comprehensive evaluation, treatment and follow-up care, including a full spectrum of support services to children and their families.
Symptoms of heart failure
Symptoms of heart failure may include:
abdominal pain, poor appetite, nausea and vomiting
fast breathing, heavy breathing or shortness of breath
cough or congestion in the lungs
fatigue and weakness
needing to take frequent rest breaks
falling asleep during feedings
poor growth
weight gain due to fluid retention
swelling of the legs, ankles, eyelids, face or abdomen
sweating during normal activity
The severity of a child's symptoms may vary and can worsen if the condition progresses.
Diagnosing heart failure
The heart failure team at C.S. Mott Children's Hospital has extensive experience evaluating children for heart failure. Heart failure can be caused by a range of conditions, and your child's heart failure management plan will be customized to his or her precise needs and health history.
Your evaluation will begin with a comprehensive health history and physical examination, including a discussion of your child's appetite, breathing behaviors, and energy levels. Your doctor may also order tests to help show how the heart is working, its size, and check for any disease or infection in the heart tissue. These tests could include:
Chest x-ray
Echocardiogram
Electrocardiogram (EKG)
Blood tests
Exercise tests
Cardiac MRI
Heart failure treatment
Each patient's treatment plan is customized based on the cause of heart failure, severity of disease, overall health and medical history and personal and family needs.
Treatment generally includes one or more of the following:
Medical management – our heart failure specialists can prescribe medications that help the heart pump, decrease fluid collection and relieve congestion, and control blood pressure and heart rate.
Interventional therapy – our interventional cardiology team can treat some forms of heart failure caused by congenital heart defects, for example by opening or closing abnormal blood vessels, or repair or replacing heart valves that aren't working properly.
Surgery – surgical procedures for heart failure can include repair or replacement of leaking heart valves, or removal of scar tissue.
Mechanical support – for patients with the most severe forms of heart failure, surgical implantation of mechanical circulatory support, such as a ventricular assist device (VAD), may be considered to help the heart pump blood.
Transplantation – for patients with progressive, irreversible heart failure, heart transplantation, replacing the failing heart with a healthier donor heart, may be considered.
Your heart failure team
Our dedicated, multidisciplinary team of heart failure and transplant cardiologists, pediatric cardiac surgeons, advance practice providers, specialized nurses, pharmacists, nutritionists, psychologists and social workers provides coordinated and comprehensive evaluation, treatment, long-term follow-up, and psychosocial support for children with heart failure and their families. 
Every patient's treatment plan is designed and continually reviewed by a full team of experts representing each specialty represented on our team.
Heart failure support and resources
Every member of our heart failure team understands that treating and managing heart failure is about more than medical therapies and procedures. We have designed our program to support our patients' and their families' emotional needs as well. Our support team will work to reduce anxiety and uncertainty by carefully explaining every step of your care and providing a safe and comforting environment for your family.
Our child life specialists will help children and their families cope with hospitalization and anxiety around medical procedures.  Our specialized social workers provide a wide range of support and resources from diagnosis through life after transplant. Our psychologist works with patients one-on-one to prepare for the complicated psychosocial aspects of heart failure treatment.
You'll also benefit from the fact that every member of our team – from our dietitians to our social workers – specialize in the unique needs of heart failure patients.
Heart failure research and innovation
The C.S. Mott Children's Hospital Congenital Heart Center team is committed to giving our patients access to the newest and best treatments available. Our team is actively involved in multiple research endeavors to better evaluate and treat pediatric heart failure and to improve the long-term outlook and quality of life for our patients. Our center is actively studying novel diagnostics, devices, medications and patient reported outcomes all intended to help our patients thrive.
Why choose C.S. Mott Children's Hospital
The C.S. Mott Children's Hospital heart failure team is one of the Midwest's most experienced heart failure programs. Not only is our children's heart program consistently ranked in the top heart programs in the nation by U.S. News & World Report, we are also seamlessly integrated into Michigan's largest and most experienced organ transplant programs. Our team has extensive experience evaluating and managing complex heart failure in children.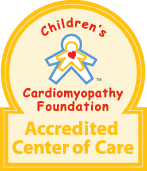 We are leading participants in Action, the multinational pediatric heart failure learning collaborative. We are a Children's Cardiomyopathy Foundation Accredited Center of care. We also specialize in caring for patients with complex congenital heart disease, such as patients who have undergone the Fontan procedure, that develop heart failure and related complications.
From personalized medication regimens to the latest circulatory support devices available, your child will have access to the full spectrum of treatment options.  Most importantly, your family will be under the care of an expert team – each of whom specialize in treating and managing heart failure.
We are committed to helping your child maintain a high quality of life during and after treatment – whenever possible helping your child thrive at home.
Our team has the depth of expertise to help your family make complex decisions about treatment – balancing options related to delaying or avoiding surgery – with your child and your family always at the center of every decision.
Appointments & Information
To make an appointment with our heart failure team, or to learn more about the C.S. Mott Children's Hospital Congenital Heart Center, please call 734-764-5176.