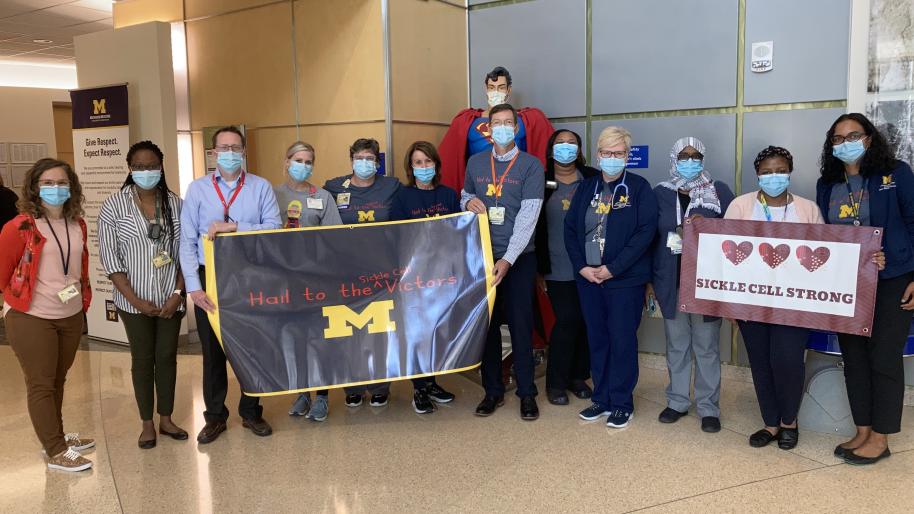 Sickle cell disease is a group of blood disorders that affect hemoglobin – a protein in red blood cells that carry oxygen. Sickle cell disease is unpredictable, chronic, requiring complex management by specialized health care professionals. At the Pediatric Comprehensive Sickle Cell Program, part of C.S. Mott Children's Hospital at the University of Michigan, we provide coordinated, comprehensive health care and resources to children and families affected by sickle cell disease.
Approximately 1 in 375 African-Americans is born with sickle cell disease – one of the most common inherited diseases worldwide. Newborn screening for the sickle cell gene is performed on all infants born in the U.S. The results are given to you and your primary care physician usually by the time your baby is 2 weeks old. If both parents carry the sickle cell trait, there is a 1 in 4 chance of having a child with sickle cell disease.
We carefully review with you and your family the meaning of a positive newborn sickle cell screen. We provide in-depth education, and also provide genetic counseling, which includes a discussion of implications of future pregnancies.
Some of the complications and effects of this disease include:
Episodic pain crises and chronic pain
Frequent hospitalizations, emergency room and clinic visits
Increased susceptibility to bacterial infections
Slowed growth
Impaired fertility
Strokes
Restriction in blood supply, with potential tissue damage to heart, lungs, bone marrow, brain, kidneys and/or spleen
Psychological stress due to the unpredictable nature of the illness, and the potential for suboptimal functioning at school, work or with relationships.
The potential for lowered self-esteem, which can impact compliance with home management, treatment and keeping clinic appointments
What You Should Know About Managing Sickle Cell Disease
Ongoing assessment and intervention as well as active participation of the child and caregivers are essential to providing the most effective treatment available. Optimal management of sickle cell disease and its complications may result in improved outcomes for those affected.
Pain is the most important symptom of sickle cell disease. The pain is often described as deep, gnawing and throbbing. The skin may be tender, red and warm in the painful areas. Kids with sickle cell disease may experience a wide variety of pain, ranging from mild to severe, starting as early as six months old and continuing throughout their lives. It can be difficult for children to tell you where it hurts and what it feels like.
For this reason, we are using new tools to help define pain in children. Pain charts and scales for kids use pictures or numbers to describe their pain. Describing the pain can help parents, doctors and nurses understand how bad the pain is, and how to best treat it.
To optimally address this and other medical issues, a multidisciplinary team consisting of a physician (pediatric hematologist), registered nurse, social worker, psychologist, dietician and clinic coordinator collaborate to spearhead each patient's specific issues, providing expert consultations and long-term management for the most comprehensive care. A written comprehensive plan is completed with recommendations from our multidisciplinary team.
Comprehensive Treatment and Options at the University of Michigan
Each patient has a comprehensive visit at the beginning of the program and annually thereafter. This visit consists of obtaining a thorough history, a complete physical examination, laboratory data, parameters of growth and development and an assessment by the physician, nurse practitioner, psychologist, social worker and nutritionist.
Pain can be treated with over-the-counter medications, other at-home therapies and lifestyle changes. Severe pain may require clinic or hospital care. A blood transfusion can be performed for complications not controlled by milder therapies.
We offer exchange blood transfusions through our Apheresis Center, providing children who need chronic transfusions with options to decrease the need for iron overload treatments (blood transfusions cause a buildup of iron in the blood), and can extend the time between treatments to 5-6 weeks as opposed to 3-4 weeks.
For patients with severe cases of sickle cell disease, a bone marrow transplant may be the best course of treatment. Mott is home to the largest, most experienced pediatric marrow transplant program in the state of Michigan, with recognized expertise in both established transplant techniques and innovative research initiatives
In addition, we also offer:
One of the few Sickle Cell Day Hospitals in the state with a goal to decrease emergency room visits and hospitalizations by managing acute pain as it occurs
A Sickle Cell Gynecologic Clinic to provide specialized gynecologic care for adolescent females who might have unique needs due to their sickle cell diagnosis
A Sickle Cell Pulmonary Clinic for children with pulmonary hypertension, reactive airway disease, sleep apneas or repeated episodes of acute chest syndrome
A Pediatric hematology nurse is available during the week by phone to discuss home management or minor illnesses as well as provide support or education between visits. A pediatric hematologist/oncologist is available by beeper 24 hours/day 365 days/year at 734.936.6267 (ask for the pediatric hematologist/oncologist on-call).
School Visitation Program
We frequently visit our patients' schools throughout the calendar year to help educate teachers and school administrators regarding sickle cell disease and its impact on school performance, absences due to painful episodes, and preparation for physical education activities (drinking lots of fluids, allowing rest between activities).
Research
We are leaders in research and innovative work to better understand complications of sickle cell disease, including health outcomes research, sickle cell sibling studies, pulmonary hypertension and kidney disease research. Notable work is underway at the Khoriaty Lab and Engel Lab to identify new strategies to treat sickle cell disease and to lessen the severity of complications resulting from the disease. More specifically, the Engel Lab is working to understand the mechanisms that produce different hemoglobins (iron-rich protein found in red blood cells). Through the study of mice that mimic hemoglobin disorders like sickle cell anemia, the team is working on the development of new drugs to help treat the disease.
Make an Appointment
Schedule an appointment by calling us at 734-936-9814