Chris Dickinson, M.D.
Chief Clinical Officer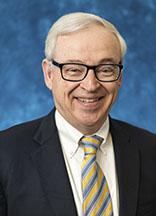 Dr. Chris J. Dickinson attended Wayne State University in Detroit, Michigan where he received a B.A. in Chemistry, followed by his M.D. degree in 1981.  He then completed a General Pediatric Residency at Rainbow Babies and Children's Hospital in Cleveland, Ohio.  In 1984, he began a Pediatric Gastroenterology Fellowship Program at the University of Michigan in Ann Arbor.  Dr. Dickinson became a faculty member in the Department of Pediatrics in July 1986.  He served as the chief of the division of Pediatric Gastroenterology from July 1999 through June 2011. Dr. Dickinson continues to serve as a practicing faculty member in the division of Pediatric Gastroenterology.
Dr. Dickinson served as an Associate Chief of Staff for the Office of Clinical Affairs beginning June 2003 and concluding in July 2011.  He was appointed as the Chief Medical Officer (CMO) for the University of Michigan, C.S.  Mott Children's Hospital and Von Voigtlander Women's Hospital, on July 1st, 2011.  
Dr. Dickinson has been deeply involved in several safety and quality initiatives throughout the entire health system.  In his current role as Chief Clinical Officer, he has instituted a daily safety huddle in the Children's and Women's hospitals, as well as an Admitting Officer of the Day (AOD) program.  The CW safety huddle proved successful and laid the ground work for Safety Huddles elsewhere.  Dr. Dickinson is currently deeply involved in the review and evaluation of Serious Safety Events which have taken place. His work in this area is aimed at prevention and improved safety practices to keep patients from any and all harm.  Dr. Dickinson's continued goal has been to focus and achieve new safety and quality standards for all patients.
Luanne Thomas Ewald, M.H.A., FACHE
Chief Operating Officer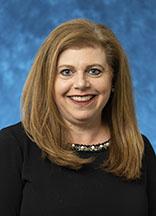 Luanne Thomas Ewald, FACHE, serves as Chief Operating Officer of C.S. Mott Children's Hospital and Von Voigtlander Women's Hospital. She holds a Bachelor of Science in Business Administration from Marquette University and a Masters in Hospital and Health Administration from Xavier University.  
Previously, Ms. Thomas Ewald served as Chief Executive Officer (CEO) at Children's Hospital of Michigan (CHM). Prior to her role as CEO, she was Regional Vice President of Business Development at the Detroit Medical Center (DMC) while simultaneously serving as Vice President of Business Development at CHM. She also held positions as DMC Corporate Vice President, Business Development and Marketing, Chief of Staff to the DMC President and CEO, Administrative Director at Hutzel Hospital for the Women's Health Initiative, DMC Senior Planning and Marketing Analyst.  
Ms. Thomas Ewald has won many awards over the past fifteen years. Most recently, in 2018, she was named as one of the Notable Women in Healthcare by Crain's Detroit Business and one of Becker's Hospital Review's Women to Watch, and in 2019, she was awarded the Leadership Detroit Inspirational Leadership Award by the Detroit Regional Chamber.
Kelly Baird-Cox, DNP, RN, CPNP, CPEN, CEN, TCRN, NEA-BC, CENP, CPPS
Chief Nursing Officer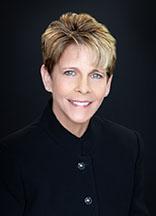 Dr. Kelly Baird-Cox is the Chief Nursing Officer for C.S. Mott Children's Hospital and Von Voigtlander Women's Hospital. Before this role, Kelly served as the Associate Chief Nursing Officer for Pediatrics the previous three years and the Clinical Nursing Director for Children's Emergency Services the prior eight years during her tenure at Michigan Medicine.
Kelly has 34 years of progressive pediatric and women's clinical and nursing leadership experience. Her background is extensive in implementing and advancing evidence-based and autonomous nursing practice. Kelly's vision for nursing is that we are an inclusive team, influencing one another through compassion, integrity, and innovation while embracing a model of caring that recognizes and values the honor of being invited into the lives of patients, families, and staff who entrust us with their care.
Dr. Baird-Cox earned her Bachelor of Science in Nursing from The Ohio State University. She earned a Master of Science in Nursing Administration from Madonna University and a clinical Master of Science in Nursing from Wayne State University. She earned a Doctor of Nursing Practice in Leadership from Madonna University. Kelly is a member of many professional organizations, is involved in various activities, and has earned several awards.
Donna M. Martin, M.D., Ph.D.
Chair, Department of Pediatrics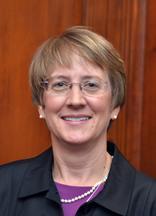 Dr. Donna Martin is Professor and Chair of Pediatrics and Professor of Human Genetics at The University of Michigan Medical School. She is a graduate of Michigan Technological University (BS in Mathematics and Foreign Languages) and the University of Michigan (MD and PhD in Neuroscience).  She is board certified in Medical Genetics, and cares for patients with a wide variety of known and suspected Genetic conditions.  Her research focus is on developmental disorders of the nervous system including mechanisms underlying CHARGE syndrome. Dr. Martin serves on the council of the American Society for Clinical Investigation and the board of the American Society of Human Genetics, and is an active member of the American Academy of Pediatrics, the American College of Medical Genetics, and the Association for Research in Otolaryngology. She is Chair of the Scientific Advisory Board for the CHARGE Syndrome Foundation. She also enjoys reading, swimming, jogging, hiking, and spending time with her family.
Steven J. Kasten, M.D.
Surgeon-in-Chief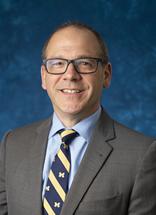 Steven J. Kasten, MD, MHPE., serves as a Clinical Professor in the Section of Plastic Surgery. He is a Michigan native, received his MD from The University of Michigan and his Masters in Health Professions Education from the University of Illinois in Chicago. He completed residency training in plastic surgery at the University of Michigan and is a diplomate of the American Board of Plastic Surgery as well as a Fellow of the American College of Surgeons.  He is Surgeon-in-Chief at Mott Children's Hospital, Vice Chair of Education for the Department of Surgery as well as the Institutional Laser Safety Officer.  Clinically he is the Director of the Vascular Anomalies Program and the Associate Director of the Craniofacial Anomalies Program. Dr. Kasten serves as an oral examiner for the American Board of Plastic Surgery and is past president of the Michigan Academy of Plastic Surgeons.  He is also an active member/committee member in the American Society of Plastic Surgeons, American Association of Plastic Surgeons, American Council of Academic Plastic Surgery, and the American Cleft Palate and Craniofacial Association.