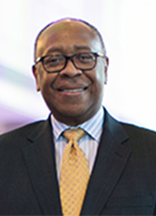 Paul King
Executive Director
Paul A. King joined University of Michigan's C.S. Mott Children's Hospital and Von Voigtlander Women's Hospital as Executive Director in 2013. Prior to his joining the U-M team, Paul had garnered nearly 30 years of experience as a health care executive, most recently as the chief executive officer of Children's Hospital Los Angeles Medical Group.
King has devoted his career to health care because he enjoys the overall mission of healing and discovering ways to better fight and treat disease, especially for children. His strong leadership record includes previously serving as vice president for clinical programs and professional services at Children's Hospital Los Angeles and in other senior management roles at the Mayo Clinic and the Samaritan Physicians Center.
His strong leadership skills guide the strategic growth of the University of Michigan's children's and women's programs and services. King is responsible for the growth and direction of Mott Children's Hospital's network of partnerships for children's care throughout the State of Michigan.
He is currently on the Board of Make-A-Wish Michigan as well as the Board of Trustees for the Children's Hospital Association.
King holds a bachelor's degree in Business Administration and Economics from the University of Nebraska, at Lincoln; and a master's degree in Healthcare Administration from the University of Iowa, Iowa City. King also is certified as a Medical Practice Executive.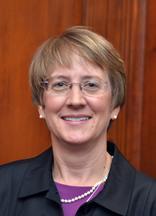 Donna M. Martin, M.D., Ph.D.
Interim Chair, Department of Pediatrics
Dr. Martin is Professor and Interim Chair of Pediatrics and Professor of Human Genetics at The University of Michigan Medical School. She is a graduate of Michigan Technological University (BS in Mathematics and Foreign Languages) and the University of Michigan (MD and PhD in Neuroscience).  She is board certified in Medical Genetics, and cares for patients with a wide variety of known and suspected Genetic conditions.  Her research focus is on developmental disorders of the nervous system including mechanisms underlying CHARGE syndrome. Dr. Martin serves on the council of the American Society for Clinical Investigation and the board of the American Society of Human Genetics, and is an active member of the American Academy of Pediatrics, the American College of Medical Genetics, and the Association for Research in Otolaryngology. She is Chair of the Scientific Advisory Board for the CHARGE Syndrome Foundation. She also enjoys reading, swimming, jogging, hiking, and spending time with her family.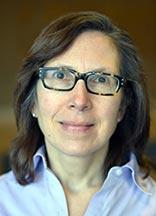 Marci Lesperance, M.D.
Surgeon-in-Chief
Marci Lesperance, M.D. is Professor of Otolaryngology-Head and Neck Surgery. She was Division Chief of Pediatric Otolaryngology at the University of Michigan Health System for 15 years.  She completed otolaryngology residency at the University of Michigan in 1994.  Dr. Lesperance then completed a one-year research fellowship in the Laboratory of Medical Genetics at the National Institute of Deafness and Other Communication Disorders (NIDCD), followed by a Pediatric Otolaryngology fellowship at Children's National Medical Center in Washington, DC.  Dr. Lesperance's research has been funded by NIH and outside foundations, and it focuses on the molecular genetics of hearing loss and using genetics to improve patient care.  She has served as Chair of the Board of Scientific Counselors for the NIDCD.  Currently, she is Surgeon in Chief for Children's and Women's Hospital the Program Director for the University of Michigan's Pediatric Otolaryngology Fellowship.  She has held leadership roles in the American Society of Pediatric Otolaryngology.  Dr. Lesperance is the Pediatric Otolaryngology section Editor for Cummings Otolaryngology-Head and Neck Surgery, 6th and 7th editions.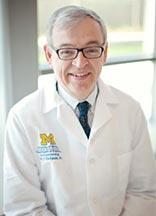 Chris Dickinson
Chief Medical Officer
Chris J. Dickinson, M.D. attended Wayne State University in Detroit, Michigan where he received a B.A. in Chemistry, followed by his M.D. degree in 1981. He then completed a General Pediatric Residency at Rainbow Babies and Children's Hospital in Cleveland, Ohio. In 1984, he began a Pediatric Gastroenterology Fellowship Program at the University of Michigan in Ann Arbor. Dr. Dickinson became a faculty member in the Department of Pediatrics in July 1986 and has continued to serve in the division of Pediatric Gastroenterology as the chief of the division from July 1999 through June 2011.
Dr. Dickinson served as an Associate Chief of Staff for the Office of Clinical Affairs beginning June 2003 and concluding in July 2011. He was appointed as the Pediatric Associate Chief Medical Officer (PACMO) for the University of Michigan and C.S. Mott Children's and Women's Hospital, on July 1st, 2011, and also served as Interim Executive Director of C.S. Mott Children's Hospital and Von Voigtlander Women's Hospital from April 2012 through August 2013.
Dr. Dickinson has been deeply involved in several safety and quality initiatives throughout the entire health system since becoming an Associate Chief. In his role as Chief Medical Officer, he focuses on achieving new safety and quality standards in C.S. Mott Children's Hospital and Von Voigtlander Women's Hospital.