Trauma program uses family donation to provide injury prevention materials and helmets to local ski resorts to help curb injuries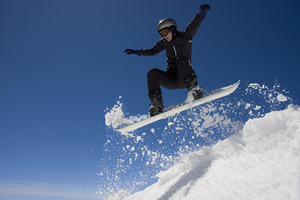 ANN ARBOR, Mich. - Nearly a year after a ski collision that left a 10-year old Northville boy critically injured with traumatic brain injuries, those who cared for him at the U-M C.S. Mott Childrens Hospital are trying to keep others from enduring similar injuries.
Tyler Hood was temporarily blinded by a snow squall while skiing at Caberfe Resort in Cadillac on Feb. 15, 2009, the start of school winter break for school children in Michigan and the busiest time of year for slopes. Tyler hit a tree head on, suffering extensive skull fractures, which led to a traumatic brain injury.
When the Pediatric Trauma Department received a private donation from a family this fall, pediatric trauma injury prevention program manager Amy Teddy knew what to do with the gift - find a way to increase helmet usage among skiers and snowboarders in the state.
With part of the money, Teddy purchased 150 helmets. Those were donated to Mt. Brighton in Livingston County, which helped lower the rental price from $8 to $5. The trauma program also created awareness materials that aim to increase helmet usage at Michiganski resorts.
Teddy says Tylers accident spurred the effort.
"Injuries like sprains, strains, and broken bones are treatable," says Teddy. "But when it comes to injuries to the brain, it is not the same. The outcome can be tragic with lifelong consequences. The most heartbreaking cases are those that are preventable."
Tylers mother Tina Hood believes her son was fortunate to have recovered from his accident so quickly. While Tyler was a patient at Mott, she watched the news of the death of actress Natasha Richardson, who suffered a head injury while skiing at a Canadian resort. She had not been wearing a helmet. She is glad U-M is helping to educate people, inspired by Tyler.
"Im very touched," Hood says. "If this can keep others from suffering the heartache we went through….then Im happy."
"As a kid who grew up skiing, we never wore helmets when we were kids," Hood says, adding that she feels all kids should wear them. "Just yesterday, I heard about the Olympic athlete who suffered a traumatic brain injury…the same thing that happened to Tyler…"
Tyler, who spent two months at Mott, temporarily lost his ability to walk and talk. He spent four and a half weeks in the Pediatric ICU and then went through extensive rehab at C.S. Mott Childrens Hospital until he was discharged on April 10. He is almost fully recovered.
He continues to receive therapy focused on overcoming cognitive limitations. He was able to continue school with his classmates at Silver Springs Elementary, where he is now in the fifth grade.
In the last four years, 24 children under 18 have been admitted to Mott for an injury sustained while skiing or snowboarding. The majority of the cases were head injuries that may have been prevented had the patient been wearing a helmet, Teddy says.
The U.S. Consumer Product Safety Commission says ski helmets could prevent or reduce the effects of 50 percent of head injuries suffered by children under the age of 15 while skiing or snowboarding.
Nearly 30,000 children, ages 5-14 yrs, will be injured while skiing or snowboarding this season, according to the group.
National Ski Areas Association numbers show that helmet use in the U.S. increased in the 2008/09 season to 48 percent of the total slope population. Children and skiers/boarders over the age of 65 have higher usage rates. For more information on: