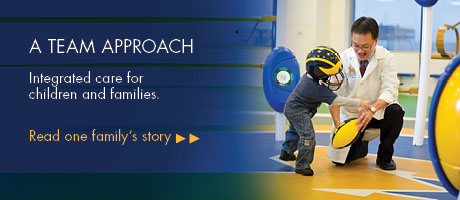 The birth of a baby with any physical difference is stressful. A disorder of sex development is additionally overwhelming because of the rareness of these conditions and the possible initial uncertainty about gender. Often these are conditions that parents have never read about or encountered before.
Disorders of sex development (DSD) is a category that includes many different medical conditions - sometimes the sexual anatomy of a child does not develop normally, while in other children the difference is in the chromosomes or hormones. These conditions may occur in both boys and girls. 
At the University of Michigan C.S. Mott Children's Hospital, we know that each child with a DSD is unique, and that each family has different concerns and needs. Our team of providers specializes in diagnosing and managing DSD conditions in infants, children, and adolescents, providing seamless transition of care into adulthood.
Our mission is to partner with our patients and their families to provide comprehensive, coordinated care that meets their long term physical, social and emotional needs.
Who we care for
DSD is a term that describes a wide range of diagnoses that affect the development of sex organs, whether due to chromosome, hormone, or other factors.  We focus on the care of children with these and other similar diagnoses:
Congenital adrenal hyperplasia
Androgen insensitivity syndrome and partial androgen insensitivity syndrome
Disorders of androgen synthesis – 5-alpha-reductase deficiency and 17-beta hydroxysteroid dehydrogenase deficiency
Disorders of anti-Müllerian hormone or receptor: presence of internal female reproductive tissues such as uterus and fallopian tubes in males
Disorders of abnormal gonadal development.
XY Mixed gonadal dysgenesis
Severe hypospadias
Cloacal exstrophy and bladder exstrophy
Micropenis
Mayer-Rokitansky-Kuster-Hauser syndrome/Vaginal agenesis
Some babies with DSD conditions will have urgent medical needs, adding to the sense of crisis. Some DSD diagnoses are only diagnosed later in childhood or in adolescence, when the impact of such a diagnosis can be just as intense.   Further, many DSD diagnoses involve complex topics and body parts that can be difficult for parents to discuss with other family members and friends. Our team members are experienced and skilled in all of these situations, and will provide the medical expertise, education and support needed to both the patient and the patient's family.
Not every child will need to see every specialist, and many conditions do not require procedures or surgery.  Our approach to care is truly customized, with each patient's care team pulled together from multiple specialties to meet his or her individual needs.
Integrated and convenient care for patients and families
The providers on our DSD team work together to provide timely, expert care with a focus on being truly patient- and family-centered. Our team is made up of pediatric specialists from endocrinology, genetics, urology, gynecology, general surgery, psychology, pathology, plastic surgery, as well as our Child and Family Life and social work teams.  Together, we provide age-appropriate care, support, education and resources to both patients and families.
The University of Michigan DSD specialists are committed to helping ease families' anxiety and fears about their child's gender assignment, future surgeries (if applicable) and overall quality of life. We provide continuous care as children grow up so they can be fully aware of their own diagnosis and share in the decision-making, addressing various issues as appropriate for each stage of their life.
Schedule an appointment by calling 734-232-0436.